Become a Member
Join us, Make a difference, Make an impact.
ಆತ್ಮೀಯ ಸ್ನೇಹಿತರೆ,
Welcome to Munich Kannadigaru e.V. 💛❤️
We'd love you to join our amazing community and help make it even stronger! Our community is a place where people from various diverse backgrounds come together to share their experiences, knowledge, and skills. We believe that by working together, we can create a positive impact and help each other grow.
As a member, you'll have the chance to participate in decision-making about community activities. Plus, you'll get access to sweet perks like vouchers and coupons from our sponsors. In addition, you'll get networking opportunities, exclusive events, and discounts on products and services from our community partners**.
We truly believe that our community is only as strong as the people in it. That's why we're all about creating a supportive and inclusive environment where everyone feels welcome and valued.
So if you're looking for a way to make a difference in your community and connect with other awesome folks who share your interests, we'd be stoked to have you as a member! We can't wait to work together and create an even brighter future for all of us.
Together we are strong! Join the largest kannada community, thriving for promoting Art, Language and Culture of Karnataka.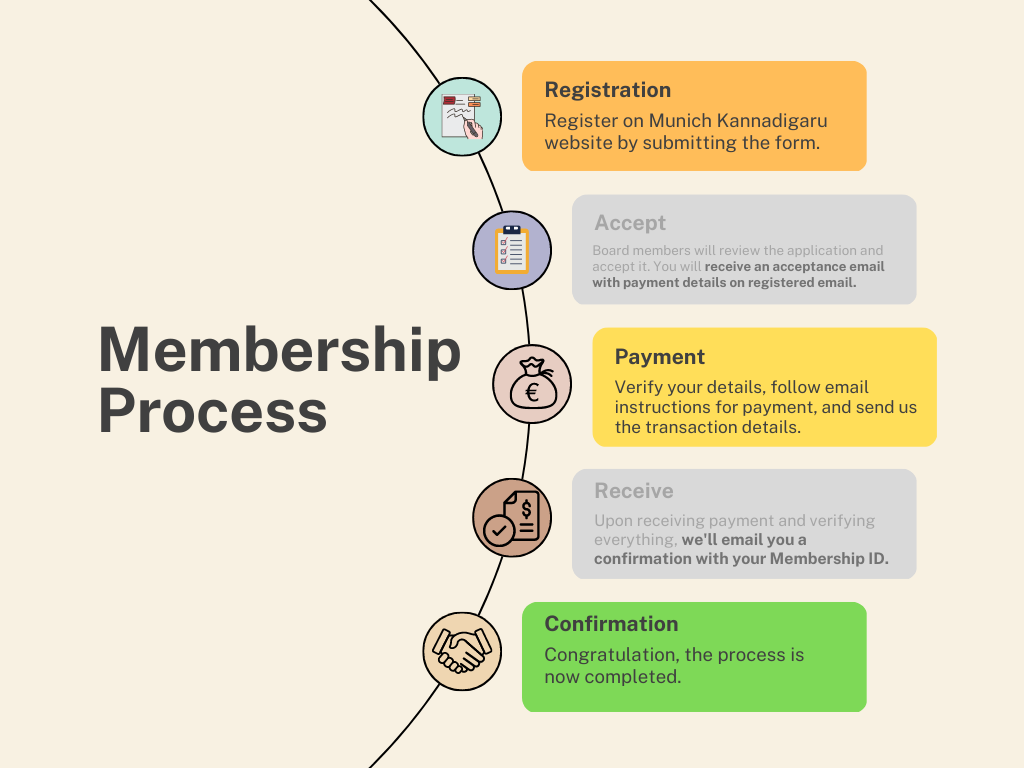 Membership category:
Student
8 Euros / year
Single Adult
Should be enrolled in any german university
Single Adult
12 Euros / year
Single Adult, Age: 18+yrs
Should be eligible to stay in germany
Family
20 Euros / year
Two adults including kids(less then 18yrs ).
Should be eligible to stay in germany
**Membership plan valid from 2023.05.01
Sign up for Membership
Membership is valid for 12 months.
Membership is confirmed upon receiving confirmation email along with Membership ID.